HF1 Tower Maintenance (Now complete)
A team effort down at GM6NX on Saturday (14/06/20), distanced outside. Main tower down (HF1), stripped, resprayed, all new cables. Optibeam OB9-5 cleaned and checked. Please see below for some before and after pictures.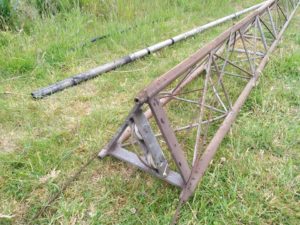 Nice new warrior winch tested and hand winch for tilting the tower over. All heavy duty cables greased and running smooth. This was well needed work given true work was done on the tower approx 20 year ago.