GB7FE is co-located with GB3FE at Stirling Radio Club and is Digital Voice Repeater based on the MMDVM modem and Raspberry Pi running  Pi-Star and supports the following modes.
D-Star
Yaesu System Fusion (YSF)
DMR.
Specifications.
TX Frequency 439.475 MHz. Offset -9.00MHz. Colour Code 1.
Repeater Motorola GM340
Controller MMDVM interfaced onto an Arduino Due controlled with a Raspberry Pi 3 operating PI-Star.
Antenna Diamond 6db colinear
Duplexer Procom DPF70-6
Keeper GM0MZB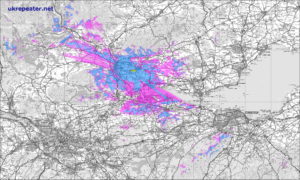 D-Star is automatically connected to the Scottish XLX600 Reflector which connect the majority of the Scottish D-Star Repeaters and Gateways. This Reflector can be disconnected by the user but will reconnect after 10 minuets of in-activity.
Yaesu System Fusion is automatically connected the Scottish SC-Room but can also be disconnected by the user.
DMR. Operates 2 independant time slots known as TS1 and TS2. Utilising both time slots means that the DMR repeater can connect to seperate networks independantly.
Time Slot 1 (TS1)
Talkgroup 9 Local Use Only (Not connected to a network)
Talkgroup 6 Digital Voice Scotland (DVS) Cluster
Talkgroup 7 XLX600C Transcoding Server. This enables DMR to be heard on D-Star and vice versa.
Talkgroup 8 DMR+ Network which has a default connection to Reflector 4450 which is the Scottish Reflector.
Talkgroup 91 Brandmeister World Wide Reflector. User Activated
Talkgroup 92 Brandmeister European Reflector. User Activated
Talkgroup 93 Brandmeister USA Reflector. User Activated.
Time Slot 2 (TS2)
Talkgroup 9 Brandmiester Reflector 4405 which is the Scottish Reflector.
GB7FE Live Dashboard
(Requires iframe to be enabled on browser.)